It LIVES Again!!!
It's back, and it's baaaad!
After a piston shot through my 351C block, Dave Williams and John Myrick encouraged me to explore the wonderful world of FE power. I was going to use a 390 out of a Mercury Monerey, but in my haste to do power upgrades, I destroyed the camshaft bearings. So, without hesitating (okay, I hemmed and hawed for a bit) I commissioned a stroker motor from Dave Williams
Dave used a FT block from a Garbage Truck, and bored it to fit Cheverolet pistons and Chrysler Slant 6 rods, and stroked my 390 crankshaft to just under 4 inches. Calculated displacement is 443CI, so we tend to call it the "Big Three Four-Fourty-Three" for fun. I added Edelbrock Performer aluminum heads, intake manifold, and camshaft with a 750CFM Holley 4100 carburator, a Purolator electric fuel pump, remote oil filter, Duraspark distributor with Crane Hi-6 brains and Crane PS-91 coil. Exhaust passes through ceramic coated Headdman headders and Midas turbo mufflers. The radiator is Mercury Monerey and so is the C-6 transmission and the 9" 2.75:1 pumpkin.
Suspension and drivetrain additions include Mercury Monarch 11" rotors, 1" lowered upper control arms, 1" front anti-sway bar, aluminum driveshaft, 9" Lincoln Versailles rear with vented rotors, Sumitomo P215/60-15 radials on Ford slotted aluminum wheels, 620lb 1" lowered front springs, 180lb 1" lowered rear springs. Brake lines are "upgraded". The front export brace has been added.
On the way is a Monte Carlo bar, a rear sway bar, and some decent paint. The interior is a work in progress, and I'd like to get the AC working someday.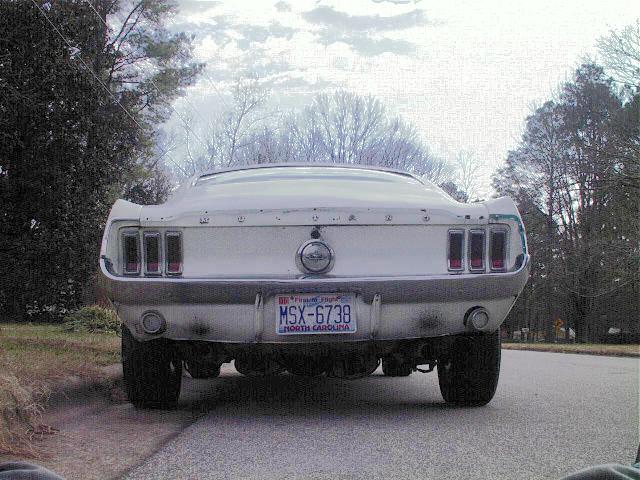 I got a rear bumper :-).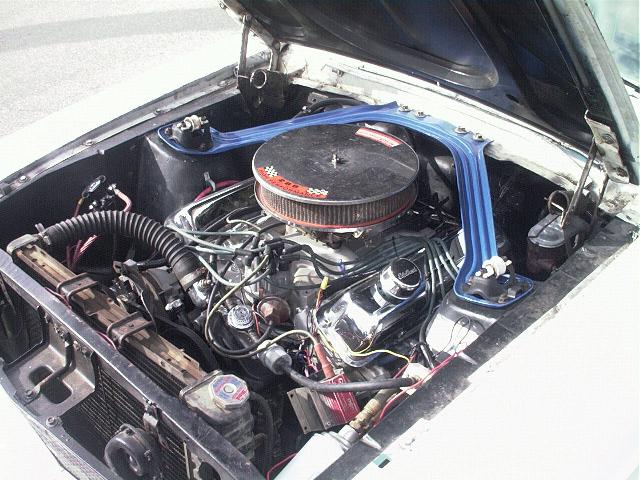 Ever wonder what a FT motor stroked to 443CI looks like?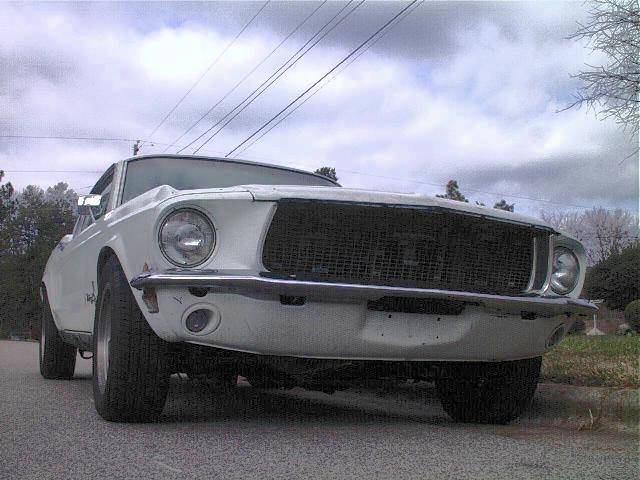 Yiiiiikes! Squirels beware!
Side view, starring the lovely and talented Laurie!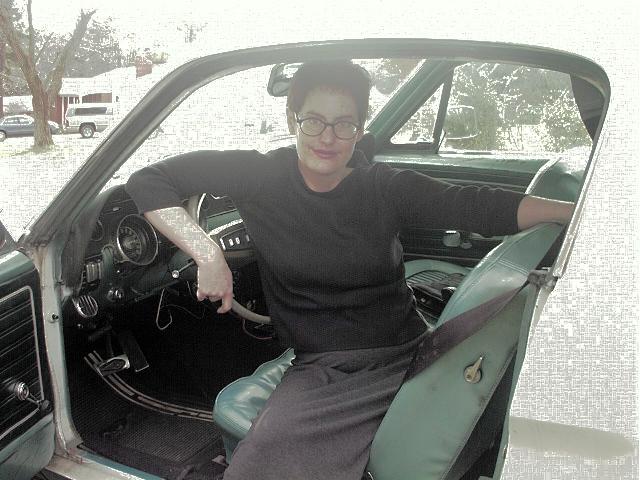 Interior view, obscured by the lovely and talented Laurie.
A kinder, gentler Mustang...
The mighty (and nude) 443
Background artwork Copyright 1997 by John Myrick. Used with permission.
---
My home page if you're in to that sort of thing.