Origins
Chevy Monza: Forever. Check this from the bill of sale: She was given to me by my mother as quoted and witnessed by lawyers in the State of Louisiana Parish of Jefferson. I quote: "That in consideration of the love and affection which she bears for her son, Sean P. Korb, she does by these presents give, donate, and deliver unto her son the following: One 1975 Chevrolet, Monza, 2-Door, Gray, 1M27HFC254792, to have and to hold unto Sean P. Korb, his heirs, successors and assigns forever." Forever. That's a mighty long time to have a Monza, and I'll get in a heap of trouble if someone invokes the claim rule.

Since I already knew the car would take an auto-cross with beastly skill, I concentrated on improving my drag racing talents... and horsepower by any means necessary. Including Nitrous Oxide :)

Here's what I had to work with last year: A 2bbl 350 with a catalytic converter, air pump, EGR... the works.
Challenge Modifications
More POWER! Buah-hah-hah-ha!

Work Completed           Parts       
-------------------------------------------------------
$1500 Challenge car           $1488.96
Sold wheels and tires        -$ 420.00
Bought them back              $ 200.00
Weiand Intake                 $ 110.00
Camshaft/Lifters              $  69.95
Carburator from Mustang       $  20.00
Rebuild kit for carb          $  39.99
Nitrous system                $ 225.00
Plumbing tee                  $  14.95
3/8" tubing                   $   8.25
Clamps                        $   5.45
Red engine paint              $   3.95
Gaskets                       $  19.95
RTV                           $   3.19
Positrac                      $   0.00  (came with the sway bars)
Lube                          $   8.00
Aluminum for rear window      $   4.00
Cap, Rotor, Wires             $  50.00

                              $1851.64



And that involved a lot of work, that I'll gloss over with picures. I started by cleaning up the engine and replacing the camshaft (ugh. I had to remove most of the front end and lower the bumper to do it).
And then some paint and a manifold and carburator!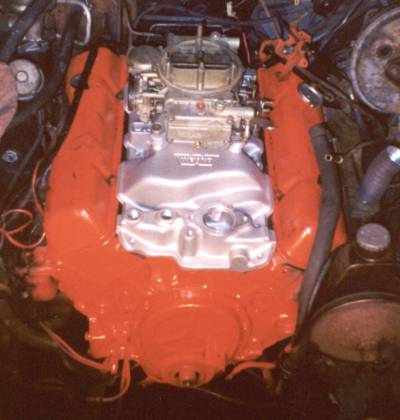 Bake at 350 degrees for 3 weeks, and add Nitrous Oxide.
Did I mention a 10 lb Nitrous Oxide bottle? I welded my own brackets!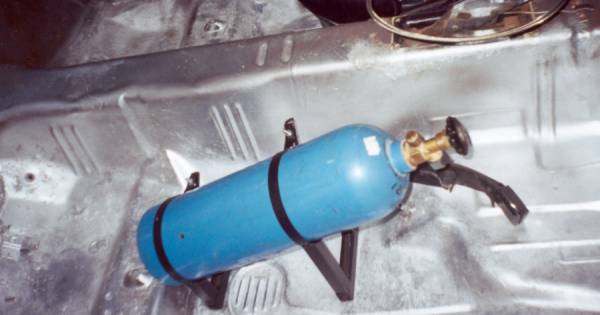 And a posi, of course. "We don't need no steenking preload!"