Sean's Motorcycle Page
Right Side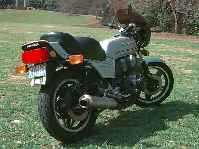 Back
This is my 1980 Honda CB750-F, known by the Triangle Denizins as the "Ratbike" but I call her Samantha. She has been lovingly cared for through the years, and she has endured several modifications including:
Stainless steel brake lines
K&N Air Filter & Stage 1 jet kit
Supertrapp 4" internal disk muffler (mated to Kerker 4->1 headers)
Tires: The front is a Dunlop 591, the rear is a Dunlop 491
Shocks (Progressive Suspension)
Daytona touring bars
That kewl Cafe Racer headlight enclosure ;-)
Oh, and this is my old bike, circa Spring 1989: 1983 Honda 650 Nighthawk. . .
If you're done drooling on that one, why don't you try to break one of these records that Grant Parsons collected?